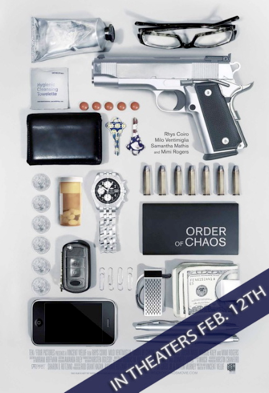 COMPLETE AUDIO POST SERVICES PROVIDED BY JUNIPER POST.
We're excited to announce the theatrical release of "Order of Chaos," an intense psychological thriller starring Rhys Coiro ("24") and Milo Ventimiglia ("Heroes"). Written, directed and scored by Vince Vieluf, and produced by Gil Cates, Jr., the film is a gripping document of a man slipping into insanity.
Juniper Post is proud to have contributed the sound design, Foley, ADR and final sound mix to "Order of Chaos," and we highly recommend you check it out: http://www.orderofchaosmovie.com/home.html
To find out how you can receive award-winning audio for your film or television show, contact David at Juniper Post today at (818) 841-1244, ext 1.