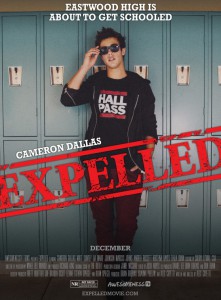 Expelled had it's world premiere last Wednesday night at the Westwood Village Theater in Los Angeles.  
Expelled: "Felix (Cameron Dallas) is a legendary prankster who always charms his way out of trouble. However, after his third strike at school, the principal has had enough and expels him. Never defeated, Felix resorts to his infamous ways and devises a plan with his brother (Marcus Johns), best friend (Matt Shively), new friend (Lia Marie Johnson) and classmate (Andrea Russett) to hide it from his parents." – ExpelledMovie.com
Expelled is now playing in select theaters.  Check out the Expelled Movie website for specific theaters.   
 Sound services  provided by Juniper Post's Sound Team. To receive a bid for a great sounding mix from the award-winning Juniper Post Sound team, call David Kitchens at (818) 841-1244, ext. 1.  Or click on the button bellow to request a quote.