62nd MPSE GOLDEN REEL NOMINEE
Feature Documentary:
AMERICA: IMAGINE THE WORLD WITHOUT HER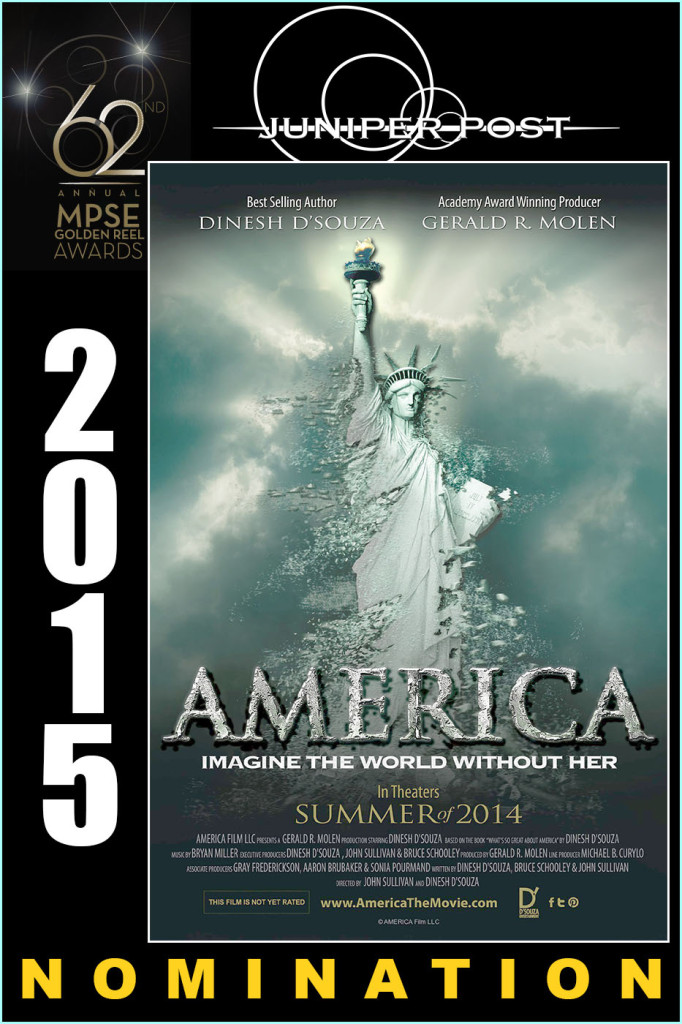 D'Souza Entertainment
PRODUCED BY: Gerald R. Molen, Dinesh D'Souza,
Michael Curylo, Gray Frederickson
DIRECTED BY: John Sullivan, Dinesh D'Souza
SUPERVISING SOUND EDITORS:
David Barber, MPSE,
David Kitchens, MPSE
SOUND DESIGNER: Ben Zarai, Ken Skoglund
SUPERVISING FOLEY / ADR EDITOR:
Gonzalo "Bino" Espinoza
SUPERVISING DIALOGUE / ADR EDITOR:
David Barber, MPSE
FOLEY ARTISTS: Shaun R. Fabos,
David Kitchens, MPSE
SOUND EFFECTS EDITOR: Sean Gray
SUPERVISING MUSIC EDITOR: LA Squared Music
SOUND DESIGN: Randy Torres

Congratulations! The Juniper Post Sound Team has been nominated for an MPSE Golden Reel Award in the Feature Documentary category  for the Sound Editing of America: Imagine A World Without Her. 
This documentary was jam-packed with historical reenactments from the Revolutionary War, to the Civil War, from old Model T cars all the way through modern day America.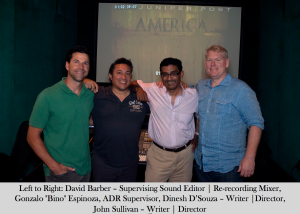 "Working with Dinesh D'Souza and John Sullivan was a great learning experience. 
"I appreciate the passion and professionalism they devoted to this movie. I can hear it in Dinesh's voice-over, and I can hear it in the group walla I recorded as the ADR supervisor/mixer. I can see it in the directing,  writing, cinematography, and editing for this project.
"I am proud to be a part of it!" – Gonzalo "Bino" Espinoza, Recording Supervisor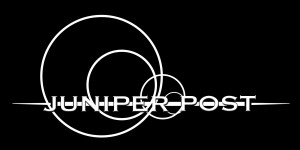 Juniper Post provides Sound Design & Editing, Foley, Voice Over, and Mixing.  To receive a bid for a great sounding mix from the award-winning Juniper Post Sound team, call David Kitchens at (818) 841-1244, ext. 1.