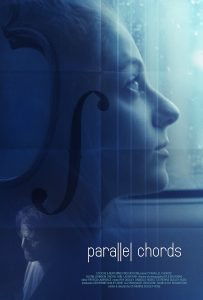 Parallel Chords, the feature film is scheduled to screen April 14th, 7:45pm at Cinemark Palace in the 2018 Kansas City FilmFest!
KC has been extremely supportive of the project and mentioned the feature several times during the Duplass Brothers Seed & Spark Campaign. Less than 2 years ago the short film was screening at KC FilmFest and the filmmakers, (Writer/Director Catherine Dudley-Rose and Producer Allyson Mace) are thrilled to return to KC with the feature film.
"Parallel Chords (overture) is the true story of a young violinist struggling to assert her individuality amidst the intense pressure of her pianist father and the formidable weight of her own musical ability." – summary on IMDb
All audio post services for Parallel Chords were provided by Juniper.