SOUND TRANSLATION: MAKING YOUR MOVIES AND TV SHOWS SOUND GOOD IN ALL VENUES IN TODAY'S ECONOMY 
WILL MY MOVIE SOUND GOOD IN ALL VENUES OR JUST IN THE ROOM WHERE IT WAS MIXED?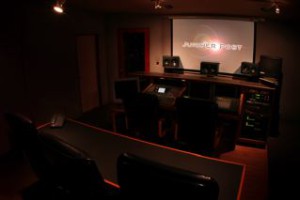 This is a problem some filmmakers run into after they finish their sound mix and then hear it for the first time in a theater. "I thought my mix sounded good…."  In the sound industry this all falls under the heading of "Sound Translation" and by translation, we are referring to how the sound quality "translates" from the original mixing room to multiple theaters, home theaters or televisions.  It's true that your mix will sound different when played in different locations. That's just the laws of physics, but if your film sounded good in the mixing studio, it should still sounds good in other environments, providing the location you are now hearing it in is set up properly.  This is where professionals like Dolby come into play.

Why is sound translation so important to you and your movie?   A filmmaker needs confidence in what is being heard during the mixing process.  One solution is to mix in a room that is the size of a very large mixing theater which has been tuned to the same spec as a large movie theater.  However, most low-budget films and documentaries cannot afford the rates of larger theatrical mixing stages in today's economy.  So many filmmakers are relying on a smaller mixing room, with the hopes that this mix will translate to a larger theater.
We have mixed in many different size Dolby certified studios, and can recommend what is best for your project depending on the budget and type of film, TV show or documentary.  It's our job to look at your specific needs and recommend the best workflow, keeping in mind the content and budget.  For more information, click the link.  Contact Juniper today.