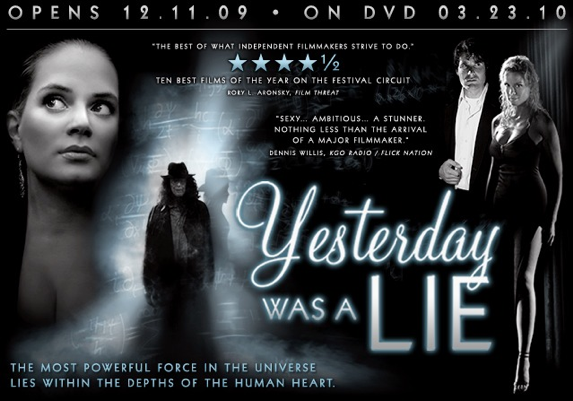 Following a theatrical release, multi-award-winning indie "Yesterday Was a Lie" is now available for pre-order on DVD. A groundbreaking new metaphysical noir film from writer/director James Kerwin, the film combines "stunning black & white cinematography, a sultry jazz score and a refreshingly high-minded script" (Variety). The film can also be described as a time travel love story.
With such an original film comes tremendous opportunity for an original approach to sound design. Juniper Post is proud to have provided all audio post-production services on "Yesterday Was a Lie", and we congratulate James Kerwin and Chase Masterson on all their success.
From James Kerwin:
Cast, crew, and friends of YWAL:
We've been busy over the past couple months preparing for the upcoming upcoming DVD release of YESTERDAY WAS A LIE. We had a fun premiere and a great theatrical release in December, but the work doesn't stop there. The great people at E1 have been authoring what we think will be a wonderful commercial DVD of the film with many special features — including a commentary track which they asked Kipleigh, Chase, and I to record last month at Juniper Post.
Although the DVD doesn't hit stores until March 23, the good news is that people can pre-order it for purchase or rental now. We strongly encourage you to do so, and pass this on to anyone you think would be interested. The number of pre-orders registered at Amazon and Netflix over the course of the next few weeks will determine how many copies are stocked by these companies!
You can pre-order by visiting http://www.yesterdaywasalie.com and clicking "SEE THE FILM," or add it to your queue directly at
Amazon: http://www.amazon.com/gp/product/B00316DAOI?ie=UTF8&tag=heliconartscooperative-20&linkCode=as2&camp=1789&creative=9325&creativeASIN=B00316DAOI
Netflix: http://www.netflix.com/Movie/Yesterday_Was_a_Lie/70129313

Another quick note: YESTERDAY has gotten almost all positive reviews to date, and made a few critics' top ten lists; the latest is CJSF 90.1 FM Vancouver's "Hi-Sci-Fi" show, where it was named one of the year's ten best science fiction films. The DVD has also made the cut on the Independent Dealers of Entertainment Association's "Hidden Gems" list for March. Congratulations to everyone.
Thanks guys!
James