The Juniper Post Sound team is proud to provide Sound Design, Foley, ADR, and Mixing for the dramatic new film from Curtis "50 Cent" Jackson; THINGS FALL APART.   Director of the film, Mario Van Peebles plays alongside Curtis "50 Cent" Jackson, Ray Liotta and Lynn Whitfield.
Pictured:
Juniper Post's sound supervisor David Kitchens,  Mario Van Peebles, head re-recording mixer David Barber & Curtis "50 Cent" Jackson.
"It's a project that I wrote and produced myself," Jackson said of the film. "It's about a Heisman hopeful who could possibly be going to the league and everyone is assuming he's gonna make it, and then he's hit with an illness.
"I had a friend of mine who experienced cancer, and it's what motivated me to write this screenplay. You don't have to make everything personal, but this project was.
"That's why I committed to playing a role where I lost 54 pounds. I had to discipline myself enough until I achieved it but … I got it."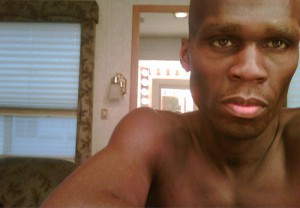 Normally weighing in at 214 pounds, Curtis "50 Cent" Jackson spent nine weeks of a liquid diet and three hours on a treadmill each day, shedding 54 pounds for this role.
Now that THINGS FALL APART is a wrap, Juniper Post is gearing up for Mixing and Sound Design services for the upcoming Curtis "50 Cent" Jackson movie SET UP, starring Bruce Willis and Ryan Phillipe.
Written By J.R. Bertinot