sound bytes: NEWS FROM JUNIPER POST
By David Kitchens
From Burbank, CA,  Juniper Post Sound Design & Mixing Team had a fun filled event at the red carpet premiere of the Independent Film, "CARMEL-BY-THE-SEA" at the Arclight in Hollywood, Wednesday evening March 09, 2011.
The film features an all-star cast led by Academy Award® winner Lauren Bacall, Josh Hutcherson, Alfred Molina, Hayden Panettiere, Dina Eastwood, Billy Boyd and Alexandra Carl, directed by Lawrence Roeck.
Pictured at the red carpet premiere at the Arclight, *Juniper Post  Sound Team, *Recording Supervisor, Gonzalo "Bino" Espinoza,  *Sound Supervisor, David Kitchens, "CARMEL-BY-THE-SEA" Producer, Jason Kay, *Supervising Sound Editor & Re-recording Mixer, David Barber,  *Sound Editor, Sean Gray.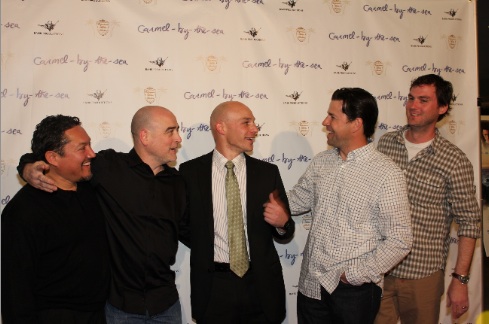 To receive a bid for a great sounding mix from the award-winning Juniper Post Sound team, call David Kitchens at (818) 841-1244, ext. 1.