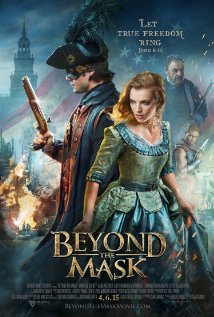 BEYOND THE MASK – In Theaters April 6
"Double crossed and on the run, an assassin for the British East India Company seeks to redeem his past by thwarting a plot against a young nation's hope for freedom."  – BeyondTheMaskMovie.com
Re-recording Mixer, Ben Zarai spoke with Beyond the Mask about creating the final mix for this feature film. Here's part of what he had to say:
"… But knowing which layer to increase or decrease gets complicated quickly, and that's where the discerning ears of an experienced mixer are needed. "Maybe the scene is on a ship," Ben offered me an example. "And you've got the creaking of the ship as a sound and you've got the crashing of the waves. You've got the boots on the wood deck as people are walking around and the swords clanking in their belts. So many sounds are happening at once, and you have to decide what is important for telling the story. You want it to sound big and full and rich, but you also want it to be clear so that the dialogue isn't buried by the wind." – Excerpt from Final Audio Mix: An Interview with Ben Zarai, Beyond the Mask.
Juniper Post provides Sound Design & Editing, Foley, and Mixing. To receive a bid for a great sounding mix from the award-winning Juniper Post Sound team, call David Kitchens at (818) 841-1244, ext. 1.