Chad Michael Murray, Katee Sackhoff, Abigail Spencer Ready For A 'Haunting In Georgia'
Posted 11/8/10 6:10 pm ET by MTV Movies Team in News
By Irene Lee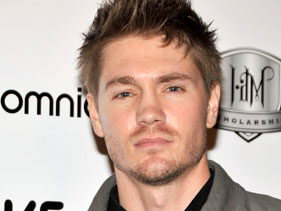 Chad Michael Murray seems to enjoy not only charming moviegoers, but also scaring them silly. According to The Hollywood Reporter, "House of Wax" star Murray is revisiting the horror genre in the next installment of Lionsgate's "Haunting" franchise, "The Haunting in Georgia."
Audiences first encountered the psychological horror thriller in "The Haunting in Connecticut," which scared up a hefty box-office profit in 2009. Though the film followed the fictional Campbell family's haunting by supernatural forces, it was based on the supposed true story of Carmen Reed.
"Georgia" will continue to use this based-on-true-events formula. Abigail Spencer ("Mad Men"), Emily Alyn Lind, and Katee Sackhoff ("Battlestar Galactica") join Murray in filling out the roles of the real-life Wyrick family. Murray's character, Andy Wyrick, is described as a straight-shootin' blue collar husband/dad whose wife Lisa (Spencer) is plagued by horrific visions, which she shares with her sister (Sackhoff) and fears she may have passed to her daughter (Lind).
"The Haunting in Georgia" may sound like a bunch of other horror flicks we've seen in recent years — but its based-on-true-events conceit definitely takes the scare-factor up a notch. Plus, Sackhoff is used to tossing out beatings to unusual beings thanks to her experience on "Battlestar Galactica," and Murray showed in "House of Wax" that he's got the chops to be a horror-thriller leading man. If worse comes to worst, Murray's smoldering gaze should be able to vanquish any supernatural forces.