Khalil Sullins' Sci-Fi Thriller Listening is coming to select theaters and On Demand beginning September 11th, 2015.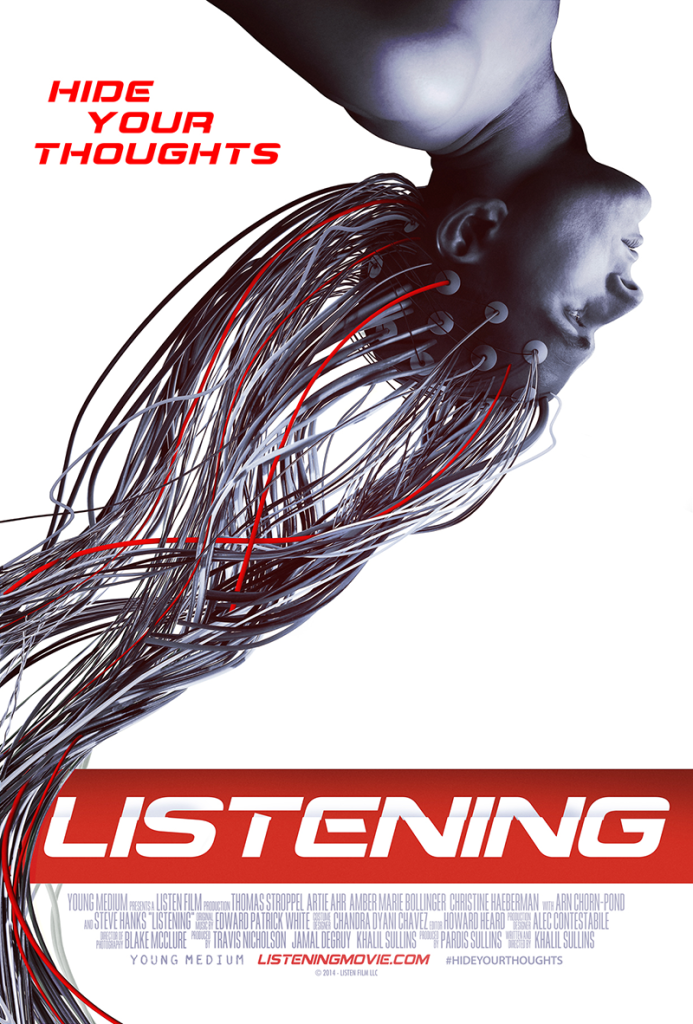 For years, we have tried to harness the power of the human mind… and failed. Now, one breakthrough will change everything. Beyond technology. Beyond humanity. Beyond control.
HIDE. YOUR. THOUGHTS.
LISTENING, the award-winning debut feature from visionary director Khalil Sullins, is a psychological thriller about penniless grad students who invent mind-reading technology that destroys their lives. David, Ryan, and Jordan hope the telepathy invention will solve all their problems, but the bleeding-edge technology opens a Pandora's box of new dangers, as the team discovers that when they open their minds, there is nowhere to hide their thoughts. Secrets and betrayals surface, and the technology is stolen by a covert government agency with a hidden agenda. With no one left to trust, David is forced against his friends in a life-or-death battle over not only the privacy of the human mind, but the future of free will itself. – Listening
Current List of Theaters
Opens 9/11 – Atlanta, GA: Plaza Theatre
Opens 9/11 – Cleveland, OH: Capitol Theatre
Opens 9/11 – Columbus, OH: Gateway Film Center
Opens 9/11 – Dallas, TX: Texas Theatre
Opens 9/11 – Los Angeles, CA: Arena Cinema
Opens 9/11 – Pasadena, CA: Laemmle Playhouse
Opens 9/11 – New York, NY: Village East Cinema
Opens 9/11 – San Diego, CA: Digital Gym Cinema
Opens 9/11 – San Francisco, CA: 4-Star Theatre
Opens 9/14 – Sioux Falls, SD: Indievents
Opens 9/18 – Toronto, ON: Magic Lantern Carlton 9
Sound services provided by Juniper Post's Sound Team; Sound Design & Editing, Foley, ADR, and Mixing. To receive a bid for a great sounding mix from the award-winning Juniper Post Sound team, call David Kitchens at (818) 841-1244, ext. 1.  To request a quote, click here.